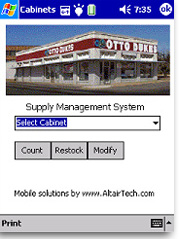 The Altair Route Management System Route Management System (RMS) automates business operations where the product or service is route-based. Poclet PCs or SmartPhones running Windows Mobile operating system are used to manage the products/services being provided. Typical applications for the RMS include:
Businesses where items (e.g. bread, gas, etc.) are delivered to customers on a scheduled basis.
Service applications where scheduling is done centrally and radioed to workers (e.g. Lawn care, plumbers, etc.)
Data collection applications like reading electric meters.
The RMS has a Desktop module and a Pocket PC (PPC) module. The Desktop module contains the functions to define and manage distributed inventories. The PPC module is used by field personnel to count, restock and bill for products. The PPC module links with the Desktop module to receive route requirements and then upload data collected from field operations.